What an intense time! Not a week after we had come back from Berlin, we were back on stage, this time in Nowa Huta, in the plenary hall of the New Administrative Centre of Nowa Huta Steelworks.

The concert was part of an annual festival held by the Nowa Huta Museum, called "Zajrzyj do Huty" (Come Round Nowa Huta), which was created to promote the heritage and the potential of this post-industrial, post-communist neighbourhood of Krakow. Ourselves, we come round Nowa Huta every week for our rehearsals in the Dom Utopii (Utopia House) cultural centre but this time, we had the opportunity to see more of Nowa Huta and enjoy the great turnout of our new audience.
We shared the concert and the stage with Nowohucka Orkiestra Instrumentów Nieprzypadkowych (Nowa Huta Ensemble of Non-Coincidental Instruments): a wonderfully diverse mix of people of all ages and musical backgrounds, and are now (very much intentionally) joined in their passion for music. The ensemble presented an equally diverse repertoire: from the Italian partisan song Bella ciao, the theme song from Amelie by Yann Tiersen, How Far I'll Go from Disney's Moana, to the classical pieces: Guitar serenade by D. Costa, Canzonetta antica by M. Drożdżowski and T. Stachak, and Andante by F. Carulli. The founder, musical director and conductor of the ensemble is Marta Brzoza.
Several Krakofonia choristers supported the ensemble in a joint performance of Vance Joy's Riptide, which may well turn out to be the beginning of a beautiful collaboration. Who knows?

As for Krakofonia, our repertoire was split between Polish-language songs from our 2021 concert "Krakofonia po polsku" ('Krakofonia In Polish') and the new pieces we are working on, i.e. songs from film scores (live action as well as animated) and musical theatre. Our long-time fans certainly recognised Krakofonia's beloved staple song, which is Eric Whitacre's Seal Lullaby (which was composed as part of a score for a never-made animated film based on Rudyard Kipling's Jungle Book) or the Broadway classic Seasons of Love from Jonathan Larson's Rent. Aside from those evergreens, the Krakow audience had a chance to witness our first-time performance of George Gershwin's Summertime and This Is Me from The Greatest Showman. In short, they were the first to get a taste of what we will be presenting in our upcoming film-and-musical concert.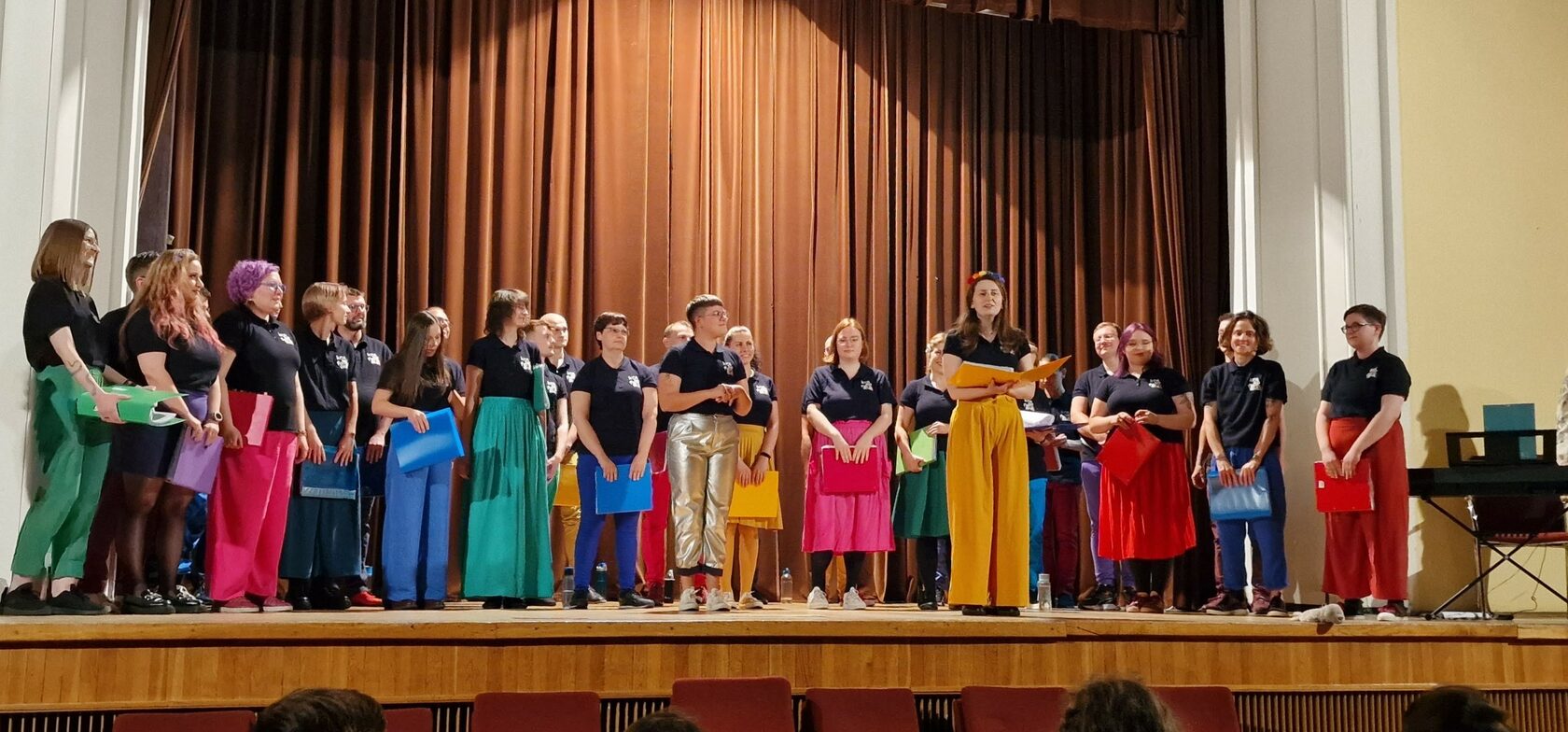 Just like in the Berlin concerts, we were accompanied on the piano by Maryna Tokarenko, who enjoyed our collaboration very much. We would like to thank her for her beautiful accompaniments.
Our next concerts this year are coming — follow us on
Facebook
or
Instagram
to be sure you won't miss anything!
Photographs: Magdalena Nieżurawska