After a lengthy break, Krakofonia finally performed live again – and how!

During our November performance in Cracow, scheduled to coincide with Polish Independence Day, we treated you to a selection of Polish-language musical delicacies: from old classics, to Polish-language versions of our favourite hits, to brand-new arrangements of contemporary music. We didn't forget about queer accents, of course, as well as Easter eggs in languages you certainly didn't expect to hear!
But where did we even get the idea to sing in our native tongue and dip our toes in the celebrations of our national Independence Day? Several of our choristers presented our reasons to you between songs – this was our way of celebrating our Polish identity in our own way, with joy, hope and love that allowed us to forget the exclusion, aversion and brutality that are part of our everyday experience, if only for a while. We were guided by the principle that anyone who loves our country and wants to live here, or who simply always has lived here, should be able to do so feeling safe and respected. We do not want patriotism to be associated with enmity towards anything that is different – we sang in Polish because we believe that far from only dividing and excluding, our language is also capable of bringing people together and can be used to express love, acceptance, devotion and intimacy.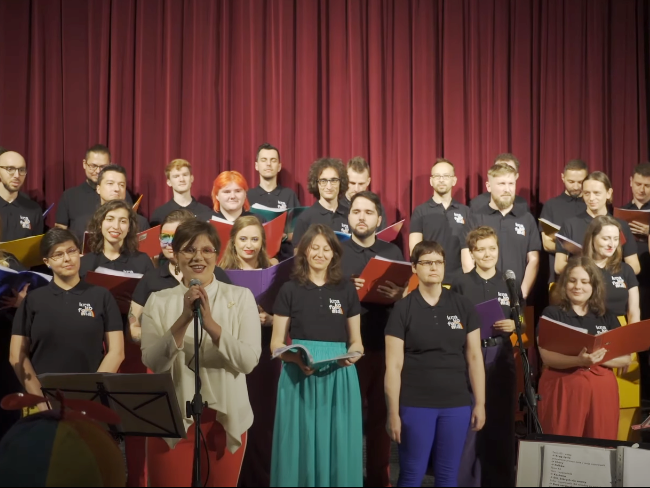 The language was about the only factor uniting the songs we perfromed, which represented a variety of themes, moods and styles. After Disney's Krąg życia (Circle of Life), which we are sure brought many in our audience back to their childhoods, we showed you a brief insight into the workings of a choir with Artur Andrus' Chóry and the Polish-language version of Loituma's Ievan Polkka (not counting several verses in the original Finnish!). Next came Renata Przemyk and Katarzyna Nosowska's Kochana and the Polish song classic, Dni, których nie znamy by Marek Grechuta.
Following that, our tenors, baritones and basses gave a first-ever performance of a new arrangement of a folk tune Dwa serduszka (Two Hearts) written by our very own conductor. We then moved on to our take on BAJM's Biała Armia, which helped us muster our strength before the most poignant piece in the evening, Rebeka's Pocałunek, arranged specially for Krakofonia by Leonardo Rizzo. The quieter mood carried us into the snowy landscapes of Kayah and Bregović's Nie ma, nie ma ciebie; we then swiftly switched to hot beaches bathed in Greek sun in Cykady na Cykladach by Maanam. As an encore, Hey's Moja i twoja nadzieja reminded us all that, as the title suggests, "your hope and mine can work miracles."
The conductor was, of course, our one and only Leo Galaksy, accompanied on the piano by Olga Piotrowska-Cender, who was brilliant as usual. The concert was hosted by Dominika Olejnik (Stewunia) and Kacper Potępski, both activists in the rainbow community, who contributed their own remarks on independence and patriotism.

This was an unusual celebration with a much diversified musical menu but it seems like you all appreciated it: the atmosphere in the overcrowded concert hall of the Klub Garnizonowy was something out of this world! It is moments like these that make all those hours of rehearsals and preparations worth it. There were moved tears both in the choir and in the audience, although our focus on giving you the best possible performance helped us keep ours in check. We shared our emotions and observations freely only in the rowdy afterparty in the HEVRE club in Kazimierz.

That evening will stay in our memory, and, going by your enthusiastic applause and moved expressions, you will not be forgetting it in a hurry either. Thank you and see you in the next concert!