Do you remember Rosa Cavaliere, our Pink Knight friends from Berlin who sang a concert with us in Krakow all the way back in 2019? This time, they invited us to their home city to celebrate their choir's 30th anniversary with them.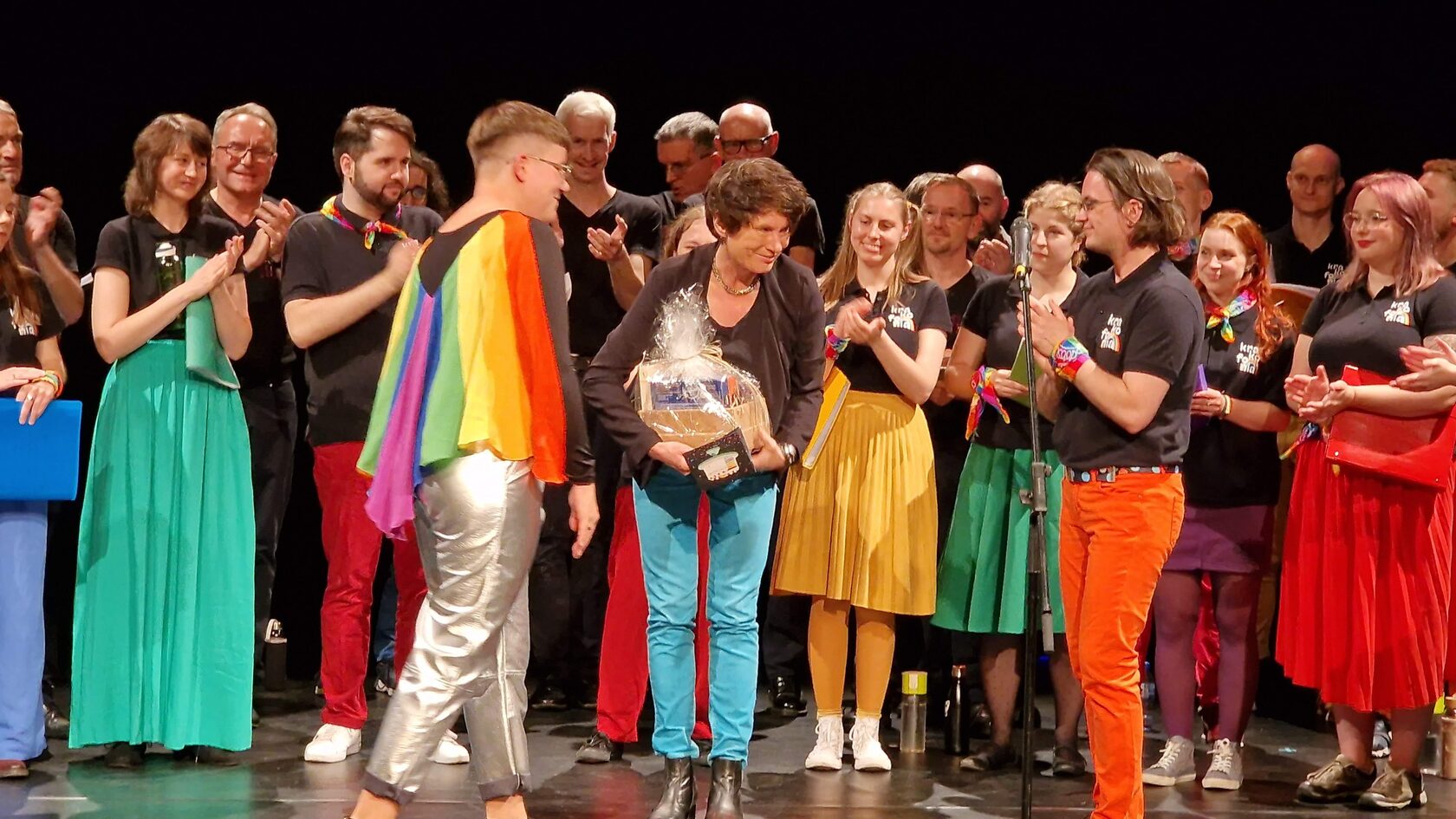 Of course, the Covid-19 pandemic threw a bit of a wrench in those plans and the thirtieth anniversary ended up being thirty-second but that only spiked our appetite. And so, we finally sang two concerts together in Berlin's Pfefferberg Theater on the 9th and 10th September 2022.

Most of us went to the German capital by train, and if you've ever wondered what happens when a choir spends almost 8 hours in a confined space with little else to do, then you guessed right — of course we could not help singing! Fortunately, none of the other passengers seemed disturbed by that, and who knows, maybe we even helped them enjoy the trip a little more.

Right after arriving in Berlin on Thursday evening, we met with our hosts — Rosa Cavaliere are an all-male a cappella queer choir conducted by Katrin Schüler-Springorum. The meeting venue was an Indian restaurant conveniently located right next to Nollendorfplatz in the heart of a very queer neighbourhood of Schöneberg. It turned out that our arrival coincided with the opening of the annual fetish festival called Folsom.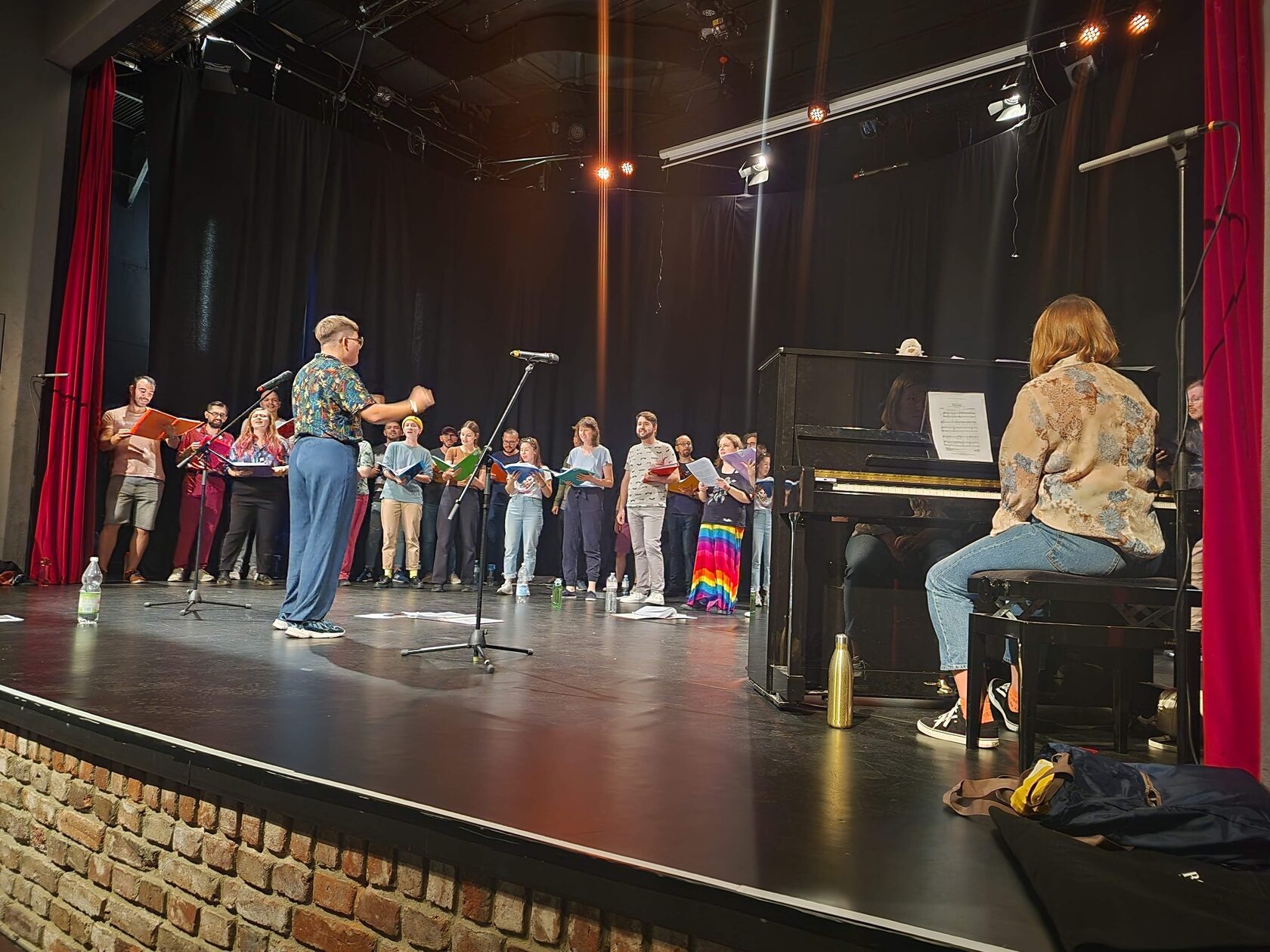 Friday was intense: before our first concert, we got to know the Pfefferberg Theater performance space and warmed up in a general rehearsal, and then scattered over Berlin to have lunch and charge our batteries for the evening.

At 8 pm, Rosa Cavaliere took to the stage to present their specially prepared musical gala called Hurra, wir singen noch! ('Hooray, We Are Still Singing!'), a feast for not only the ears but also the eyes, what with their wonderful choreography, fancy costumes and funny props. In between their musical numbers, the audience was entertained by Coco Lorès, i.e. a stage persona of Sigrid Grajek, an actress and a cabaret performer.
After a brief interval, the stage was finally ours. We sang selected pieces from our Polish-language repertoire (translations were provided in the leaflets we had distributed before the concert) and made several first-time performances of pieces from film scores and musical theatre that had been preparing. We included our favourite evergreens, such as Artur Andrus' Chóry ('Choirs') or Seasons of Love, slow and atmospheric lullabies (The Seal Lullaby and G. Gershwin's Summertime), haunting pieces with strong messages (Pocałunek and Kochana), slow and soulful songs (Dni, których nie znamy and Nie ma, nie ma ciebie), and musical hits (This is me). In a word, no room to get bored.
As encore, we also performed a surprise piece in the form of Der ewige Kreis, i.e. German-language version of Circle of Life from the Broadway musical Lion King. We rounded it all off with Zum Geburtstag viel Glück, i.e. Happy Birthday in German, and presented our hosts with a birthday gift from Krakow. The concert closed with a joint performance of Marry me, which was not only a reminder that the struggle for marriage equality in Poland still continues but also as a token of mutual care for good Polish-German relations.
Saturday was much like a repeat of Friday, only in reverse: this time, Krakofonia opened the performance for Rosa Cavaliere. In both concerts, we had a lovely accompaniment on the piano provided by Maryna Tokarenko and the conductor was, of course, the one and only Lew Galaksy. The concert was probably one for the books in terms of the number of choristers who sang solo parts.

We returned to Krakow on Sunday evening, tired and happy in equal measures. It was a fantastic feeling to be able to not only sing for a Berlin audience and bring to them the songs we hold so dear but also to celebrate, and not just Rosa Cavaliere's choir anniversary but also the friendship that unites us across the border.
Photographs: Magdalena Nieżurawska