Another choir workshop – four summer days full of song and integration – is behind us. This year, we switched the location from the Stary Sącz area to the hills of the Beskid Wyspowy, where we prepared for the upcoming concerts, took care of our voices and took time to get to know each other better.
The core of the workshop was naturally the rehearsals, in which we learned and practiced the new songs that we will present to you not just in Cracow but also in Berlin (more on that later). We sang in a variety of settings, from ensemble/tutti rehearsals, in voice sections (under careful tutelage of Przemek and Aga) and in groups of two voice sections. There were also individual as well as group voice classes provided by Agata Kuliś and Natalia Górka, both voice teachers from the Bostonova Music Center in Cracow. With their help, we worked on our breathing and enunciation, relaxing and opening our vocal tracts, as well as awareness of our individual registers and timbres. The practical exercises on blankets spread on the grass were lovely moments of respite, although the July sun was pretty scorching!
This year, we devoted more time to resting – with longer breaks for meals, relaxation and chatting on the porches, we had more mental energy to focus during the rehearsals. The extracurricular activities were just as many: right after we arrived, we played a bingo match facilitated by Ilde, and in the evenings, we had fun with board games, a bonfire and a very professional karaoke provided by Roman.
We also had the wonderful opportunity to print a baby seal (our choir mascot, designed by Alena) by hand on T-shirts and tote bags under the watchful eye of Joanna, a specialist in screen printing. The bookworms among us took part in an open book club meeting, and the early birds used the mornings to do walks and jog around the picturesque surroundings.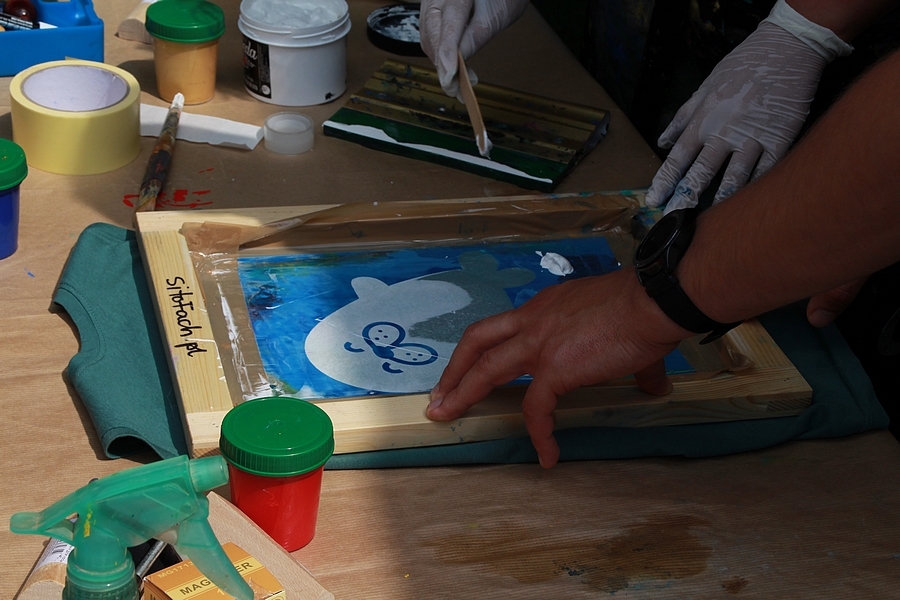 In short: the new repertoire has been rehearsed, our vocal tracts are primed and our batteries are charged with rainbow power - we are looking forward to the autumn performances! Our deepest thanks go to Adam and Janek for organising and managing the workshop so beautifully!
Pictures by Tomek Cz.